Welcome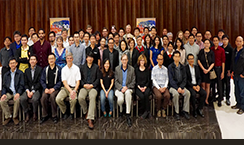 The Pacific Rim Application and Grid Middleware Assembly (PRAGMA) is a community of practice comprising individuals and institutions from around the Pacific Rim that actively collaborate with, and enable, small- to medium-sized groups to solve their problems with information technology. Key to PRAGMA's success is the active involvement of participants in scientific expeditions, technology development, student engagement, and outreach to new communities.
Attending our workshops is an ideal way to become familiar with what PRAGMA does, and how we interact as a community of trust. We invite you, your students and colleagues to explore this site, visit our partner sites, and attend future workshops (which do not carry a registration fee). We look forward to seeing you there!
Scientific Expeditions
PRAGMA forges collaborative, multidisciplinary teams to address scientific questions of high societal impact. These questions define and drive PRAGMA's technology development efforts. There are three current expeditions:
Biodiversity: Understanding adaption in extreme environments.
Limnology: Predicting lake eutrophication and training the next generation of lake scientists.
ENT: Developing an experimental network testbed for experimenting with software-defined networks and monitoring impacts of choices.
About
The Pacific Rim Application and Grid Middleware Assembly (PRAGMA) is an international, distributed community of practice for technology and approaches that supports the long tail of science, namely enabling small- to medium-sized international groups, to make rapid progress in conducting research and education by providing and developing international, experimental cyberinfrastructure.
To realize this mission, PRAGMA's current activities include four interrelated activities:
Fostering international "scientific expeditions" by forging teams of domain scientists and cyberinfrastructure researchers who develop and test information technologies that are needed to solve specific scientific questions and create usable, international-scale, cyber environments;
Developing and improving a grassroots, international cyberinfrastructure for testing, computer science insight and, advancing scientific applications by sharing resources, expertise and software;.
Infusing new ideas by developing young researchers who gain experience in cross-border science and by extending engagements with strategic parterns;
Building and enhancing the essential people-to-people trust and organization developed through regular, face-to-face meetings - a core foundation of PRAGMA's success.
Upcoming Events
» PRAGMA 38
March 11-14 2020 (CANCELLED)
Hong Kong, China
---