People
| Steering Committee | Researchers | Students |
| --- | --- | --- |
| | | |
Members and Partners
PRAGMA is an institution-and people-based organization governed by a steering committee that invites new members, determines locations of workshops and sets overall direction for PRAGMA initiatives.
A key component of PRAGMA is active participation by participation in workshops, contributing resources, hosting workshops, and/or promoting and supporting student and researcher exchanges. There are varied benefits accruing to participating institutions. We encourage interested individuals to attend a working meeting prior to discussion of membership at the institutional level. Please see a list of Additional Organizations active in PRAGMA.
Below is a map of PRAGMA institutions; to reach each institution's website for more information, click on the name.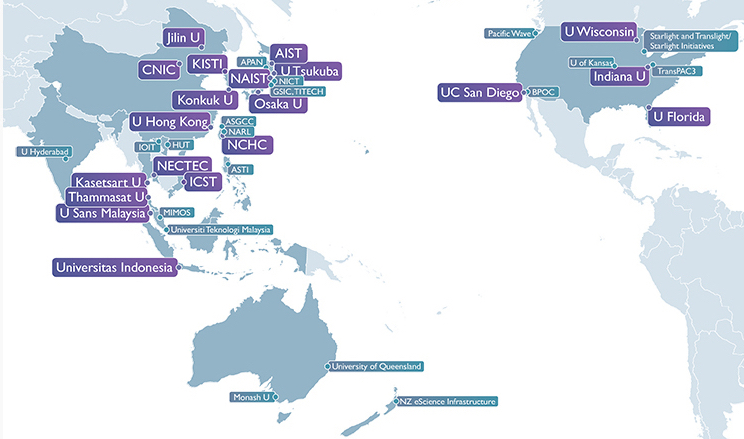 Partner and Other Community Activities
GLEON, the Global Lakes Ecological Observatory Network, whose mission is to understand, predict and communicate the role and response of lakes in a changing global environment.

CENTRA, Collaborations to Enable Transnational Cyberinfrastructure Applications, whose long-term goal is advancing scientific understanding of distributed software-defined cyberinfrastructure through partnerships and evolving a framework for collaborations amongst research centers, institutes and laboratories across the world. CENTRA engages junior researchers in software-defined infrastructure, with initial drivers of environmental modeling, disaster management and smart cities.

Lower Mekong Region: At PRAGMA 31 researchers from the Lower Mekong Region (a critical geographic area for Southeast Asia), PRAGMA and CENTRA met to discuss the need for data sharing, as well as possible approaches to creating a capable and accessible database to support data sharing. The data under discussion covered areas of hydrology, biodiversity (indicator species), land use coverage and population distribution.

Network Startup Resource Center, based at the University of Oregon, was estasblished in 1992 to provide technical assistance to organizations setting up computer networks seeking to connect to the NSFNET in support of international scientific research and education. Through coordinated technical training programs and direct engineering assistance in more than 100 countries over the past couple of decades, the NSRC builds institutional capacity to support the research community, and leverages U.S. research infrastructure to bring value to international researchers and educators. NSRC has worked with the PRAGMA commmunity for several years in the Southeast ASia region to fund researchers from Myanmar, Philippines and Thailand to attend PRAGMA meetings and engage with the regional science community. The NSRC is partially funded by the International Research Network Connections (IRNC) program of the National Science Foundation and Google, with additional contributions from dozens of public and private organizations.

SEAIP, Southeast Asia International Research and Training Program, hosted annually by the National Center for High-performance Computing (NCHC), to promote collaborations in cyberinfrastructure among researchers in Southeast Asia and between those researchers and others around the world.
---
Upcoming Events
» PRAGMA 33
October 16-17, 2017
The University of Queensland, Brisbaine, Australia
---
» eResearch 2017
October 16-20, 2017
The University of Queensland, Brisbaine, Australia
---