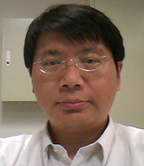 Fang-Pang Lin Division Director of Cloud Technology and System Integration, National Center for High-performance Computing (NCHC)
PRAGMA Role: Steering Committee Member, Co-Chair/Member of Telescience Working Group.
Related Work: Developing Data-oriented and community-based Cyberinfrastructure for Telescience, Geoscience and bioscience. Key projects are Earth Science Observational Knowledgebase, Fish4Knowledge and contribution to CREON and GLEON.
---
Upcoming Events
» PRAGMA 38
March 11-14 2020 (CANCELLED)
Hong Kong, China
---